Patsy Rae Dawson
Big white teeth. Big White Teeth! BIG WHITE TEETH! Five inches from my 7-year-old face! My mother's hot, bad-smelling breath smothered me as she screamed, "I hate you! I wish you were never born!"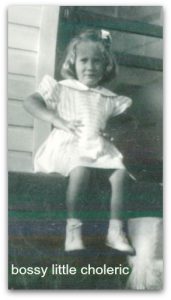 An old picture reveals a cute, lively, bossy little girl with her hands on her hips. I loved to laugh and play chase with my brothers.
Then one fateful day two years later my life changed forever....
Mother and I were at my grandparents' house when someone found my teenage aunt's note.... Hollering, my grandfather and uncle pounded on the bathroom door, and then busted it open.
I followed as each took an arm and dragged my aunt through the house out into the yard.
I watched them shake her and holler, "Breathe! Breathe!"
Quietly...I slipped back to the bathroom and stepped inside. Uuhhhhh…. I gasped as the lingering rotten-egg odor of gas from the bathroom heater burned my nose.... And my memories stop....
Within weeks, my grandparents moved with my aunt to a distant state. They left their youngest son in the care of his older brother to finish high school. At age 7, I lost my only source of hugs.
I changed almost overnight as my personality masked. I seldom laughed. I became painfully shy. My terrified subconscious refused to smell my mother's hate-filled breath blasting my face...so I could continue to love my mother who did not love me.
In the process, I lost the ability to smell anything at all.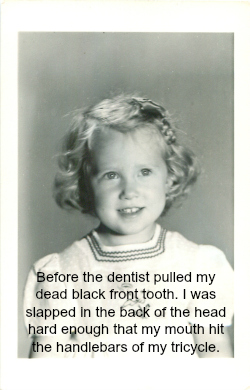 When I married and got away from my mother's screaming, my genetic humor and ease around people started to come back. But within months, the old mask began to return. I had gone from one unloving home to another of a different kind. Without awareness, I slowly retreated back into survival mode so I could love my husband who refused to show love for me.
Forty-six years later, I divorced. Before the divorce finalized, my spontaneous laughter returned. I delighted to discover I'm a naturally outgoing people person. Although I could remember some smells before age 7, my sense of smell did not return.
That changed one fateful evening in a writers' critique meeting about a year later. We were evaluating another writer's romance. A male writer commented that her scene of the man and woman meeting was boring. He explained, "A man is drawn in by appearance. You need to make it more interesting."
"But this is a Christian romance. The editors won't stand for much of that."
"I understand. But you need to show us why he's attracted to her. Men love smells. What perfume is she wearing?"
His innocent comment upset me. I've been teaching and writing about the Song of Solomon for over forty years. It's the Bible's love story to teach us how to love and enjoy passionate sex for a lifetime…. And it's full of smells. The only thing I know about smells is what someone tells me or I read.
My soul cried—I want to smell love!

And so the journey began to face the truth of why I could not smell. I contacted a Christian counselor friend to help me remember…and deal with my childhood.
A couple of months later, at age 66, I was plunging a stopped-up toilet. I flashed back to the sight of blood and something floating in the toilet. I shook my head. The flashback disappeared.
I plunged again. I gasped as my embedded memory of the unspeakable horror overcame me with the raw emotions of my terrified 7-year-old self! I dropped the plunger. Crying out I ran outside into the sun.
My mother's screams followed me, "I wish you were never born!"
Within days, I recognized my first smell—the odor released from slicing an onion. But I didn't know how to describe this strange new smell. I asked a friend what I was smelling. "Sharp," he said.
Working with my counselor to examine my childhood through adult eyes, I continued to experience new smells with each healing victory--most of them good,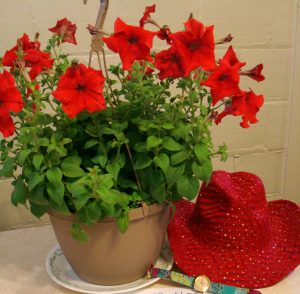 some bad.
Months later for the first time in my life, I smelled love in a gift of potted red poises. They fascinated me with the distinctive smells of the three stages of bloom—the bud's strong alluring fragrance, the flower's mellow aroma, and the wilting petals' fading scent.
THE LESSON OF FAITH
Years earlier, I had started classes to become a certified Advanced Personality Trainer in Wired That Way. I discovered that the two personality squares I absolutely knew were not mine; indeed, were my 60% genetic self. You see, the remaining 40% nurturing can be so terrible, as in my case, that it overpowers our genetic personality.
Instead of being a masked codependent peacemaking Phlegmatic, I'm a natural laughing, outgoing Sanguine who enjoys stirring up life. Rather than being a slightly depressed Melancholy who strives to be perfect to avoid being screamed at, I'm an organized can-do Choleric who thinks 75% perfect is good enough.
Recently, while working with a business coach we explored my brand and business personality. She helped me see that through masking, I had mastered the Phlegmatic's wise Sage. I also excelled at the Melancholy's Maverick who instigates change to make the world a better place.
After I lost my grandparents' hugs, I became a more nurturing, protective little mother to my younger brothers. I dared to assert over and over that we deserved a better mother. My mother reacted with slaps, ridicule, or cruel punishment. But until I graduated from high school, I continued to challenge her abusive, unloving nature as I contemplated how we could win her affection.
My coach explained, "Your Maverick gives you the self-confidence to speak comfortably about a forbidden topic. That's why your fans call you, 'The most outspoken Christian woman on sex.' You became a Maverick to fight for your brothers' and your survival. Now God uses your Maverick to fight for others who desperately need your message about how to survive and overcome the #1 googled marriage problem—sexless marriages."
Leftover resentment gave way to deeper forgiveness of my mother.
A few days later, I was making Pico de Gallo. Everything was chopped except the green onions. First, I chopped the older ones pulling off the slimy layers. Then I started on a fresh batch I'd bought the day before. As I slivered the onion heads, a pleasant, vibrant sensation enveloped me of mildly sharp, but also alive—bold freshness. The changing scent delighted me as I chopped through the crisp green stalks.
This time no one had to tell me how to describe what I was smelling. It made me want to dig out every one of those old green onions already stirred into the tomatoes and cilantro.
Later that week, God rewarded my spiritual growth with a totally new sensation. I was making chicken stir fry with onions, summer and zucchini squash, celery, and spinach. I love to cook and experiment. But being unable to smell dulls my taste buds. I can't taste food and tell what spices it needs. Consequently, I usually cook by a recipe and ask someone to taste it and tell me what else it needs.
This time I was just throwing it together. I generously added minced garlic, fresh cilantro, and chipotle seasoning along with sea salt and pepper. It tasted flat. For the first time in my life, I KNEW what it needed—Italian seasoning and cumin!
INTO ABUNDANCE
Our senses of smell and taste along with our personalities and sexual responses are emotion driven.
For over forty years, I've taught women and men the secret of our brain for sharing vaginal orgasms. Now I've become living proof of the power of one's thoughts and emotions over all these sensations. The same secret of the brain I teach for enjoying vaginal orgasms also worked for releasing my sense of smell and taste.
"We also exult in our tribulations, knowing that tribulation brings about perseverance; and perseverance, proven character; and proven character, hope; and hope does not disappoint." – Romans 5:3-5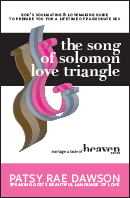 I became gutsier in teaching mothers and fathers how to love each other and their children in my new book The Song of Solomon Love Triangle, God's Soulmating and Lovemaking Guide for a Lifetime of Passionate Sex. I shared how lovemaking releases hormones of love that bond husbands and wives together. This creates a hugging, kissing, loving family environment for them and their children.
Experiencing the smell of love as a gift from God spurred me on to launch a free new program—Sexless Marriages & Without Natural Affection 4-Generational Study to warn others of the dangers of unloving homes, especially for the children.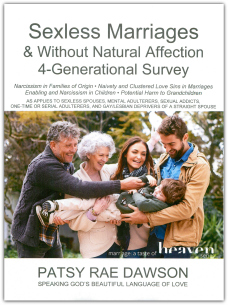 The eye-opening questionnaire covers first generational narcissism in families of origin, second generational naivety and clustered love sins in marriages, third generational enabling and narcissism in children, and fourth generational potential harm to grandchildren.
I'm fighting for every child to be raised by parents who love each other…and their children.
THE CHALLENGE
Are you masked? Are you painfully shy? Are you neglecting your genetic gifts from God of personality and character because you're living in survival mode in a loveless, sexless marriage?
While our childhood shapes us, it's only the beginning of who we're meant to be.
God's way of transforming us from the inside out works! And the rewards for working the process are even greater in the bedroom for SPEAKING GOD'S BEAUTIFUL LANGUAGE OF LOVETM.
Are you ready to really solve problems? I mean really solve them? Do you want to release your genetic personality and ability to love beyond your wildest imagination?
Well are you?
Then let's get started!
---
MEN AND WOMEN ARE ALWAYS ASKING, "CAN I TALK TO YOU?"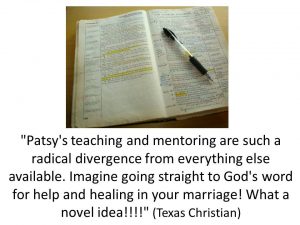 NOW YOU CAN--LET'S TALK ABOUT HOW TO
Restore your crushed feminine or masculine spirit
Release your self-love and sexual self-esteem
Increase love and intimacy in your life
Share vaginal orgasms
Deal with a sexless marriage
If it's appropriate in your situation...
Explore Biblical divorce
Claim your genetic personality and talents
Turn the bad into blessings of enriched character and talent
More...
God has been good to me. And through my life, he has given me insights you won't find anywhere else.
Click here to look over my new Christian marriage, sex, and divorce coaching programs. They address different needs for different results. Then let's talk. Life is too short to stay stuck in a miserable situation.
---
Here's What Some People Who Participated in the Study Are Saying
I learned that I know about sex intellectually, but have trouble accepting some truths.
I learned that Biblical marriage is supposed to include sex.
Without natural affection includes more than I thought it did.
I learned that my sex education was terribly lacking, and I only had knowledge of the physical side.
There are a lot of deep issues out there! And I am blessed!
I hate that no one cared enough or took the time to teach my husband and I at 19-years-old before we married.... I'm angry about that!
GOD DOESN'T TRAP ANYONE IN LOVELESS, SEXLESS MARRIAGES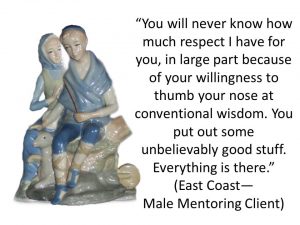 My past causes me to deeply care about helping husbands and wives learn how to love each other so they can create healthy, nurturing environments for their children.
Every husband and wife deserves to enjoy passionate love in each others arms.
Every child deserves to be raised in a home filled with love spilling over onto them.
---
May we all grow in our love for God and each other, especially our mate and children. And may our lives reflect God's love to a society so desperately in need of it.
Always in God's and your service,
Patsy
(Credit: The story is Patsy's chapter titled "The Day I Lost My Sense of Smell" in the forthcoming book Faith Into Abundance: 30 Stories of Inspiration From Successful Christian Entrepreneurs. Used with permission.)