For Speaking God's Beautiful Language of Love
Patsy Rae--The Most Outspoken Christian Woman on Sex

Which Describes You?
| | |
| --- | --- |
| Do you want to learn the secret of speaking God's beautiful language of love by sharing vaginal orgasms with your mate? Hint: It's not the G-spot or other special techniques.... | |
Warning! Becoming a Better Lover Won't Cure a Sexless Marriage
Learning how to enjoy a vaginal orgasm won't cure a sexless marriage unless you're the one doing the depriving. If your spouse is depriving you, learning how to enjoy a vaginal orgasm may make it worse.
When the MAN withholds emotional and sexual love: If the wife learns how to respond quickly with an amazing vaginal orgasm, her husband may engage in less sex with her. He'll move from criticizing her performance to other reasons to reject her. That's because SHE is not the problem.
When the WOMAN withholds emotional and sexual love: The same is true when the husband learns the secret power of the mind over sensations to share vaginal orgasms. She will move from complaining about his lack of finesse to other reasons to tell him, "No!" That's because HE is not the problem.
Urgent Problems
Passionate Marriages
Sexless Marriages & Divorce

1. Believing scientific studies that claim the vaginal orgasm is a myth.

Many sexologists assert a woman can't climax with a man--she needs a vibrator.

What it takes to climax inside an MRI machine pleasuring yourself is very different than when a loving woman is in the arms of a passionate man.

Do you really think God so screwed up a man's and a woman's plumbing that they can't even screw each other right?

I don't know about your God...But my God is not a screw up.

2. Not knowing the Bible teaches the brain is the most powerful sexual organ for sharing vaginal orgasms--not the G-spot or other special techniques.


1. The #1 googled marriage problem is sexless marriages and dead bedrooms.

But most online advice for sexless marriages addresses only sexual naivety, health and age problems, and sexual techniques.

Does that work for you?

According to the comments on sexless marriage forums, it doesn't work for most people.

2. Believing the false religious dogma that scriptural divorce demands physical evidence or confession of overt adultery.

Anyone who doesn't understand that God loves passionate sex more than he hates divorce, doesn't know what God hates about divorce.

Urgent Solutions
Passionate Marriages
Sexless Marriages & Divorce

I've been teaching women and men the secret of the brain for sharing vaginal orgasms for over 40 years.

Why and men?

Because vaginal orgasms aren't a solo or spectator sport. They're a marvelous way for husbands and wives to celebrate their love for each other.

Men often ask about the vaginal orgasm. One husband explained, "I want to make my wife see stars." While they want to pleasure their wives, men don't know until they experience a vaginal orgasm with their wife that it greatly increases their pleasure, too. Wow! God's way of a man with a maid (Proverbs 30:18-19) is awesome!

Passionate sex is not a spectator sport as in getting laid or doing your duty. It's not a technique. You have to put your mind, heart, and soul into it to share fabulous sensations.

After 40 years coaching men and women on sexless marriages, I move beyond the easy problems addressed by most articles and counselors. I deal with hard-core career sexual deprivers and the damage they do to their mate and children.

You'll learn the 3 types of sexless marriages and which one yours is.
You'll discover the 24/7 clustered love sins of hard-core sexual deprivers so you can fight about the right things.
You'll begin repairing the emotional and personality damage you've suffered from a toxic childhood and/or relationship.

Discover God's many-faceted approach to dealing with loveless lives.

God doesn't trap anyone in sexless marriages.

And many times divorce is as righteous as partaking of the Lord's Supper.
Christian Answers on Marriage, Sex & Divorce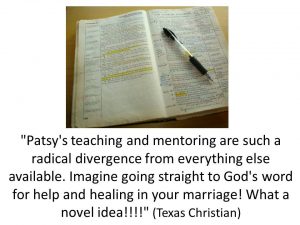 Pick Patsy Rae's Brain With 1-on-1 Q&A
Passionate Marriages
Sexless Marriages & Divorce


Or how to

Deal with a sexual past that is holding you back
Sort through leftover Victorian morals that deny you pleasure
Overcome the shame a virginity pledge fostered in your marriage
Examine your home of origin for hangups you've brought into your marriage
Enjoy the emotional side of lovemaking so you can delight in the physical side
Understand better how the Bible promotes a sexually loving marriage
Learn how to appreciate the opposite sex both in and out of bedroom
Learn why a wonderful love life includes intellectual, emotional, and sexual love
Overcome your fear of the opposite sex

Or how to

Restore your crushed feminine or masculine spirit
Release your self-love
Reclaim your sexual self-esteem
Draw boundaries with unloving people
Increase love and intimacy in your life
If it's appropriate in your situation...
Explore Biblical divorce for
» Sexless marriages
» Mental adultery
» Adultery
» Homosexuality
» Sexual addiction
» Spouse abuse
» Financial abuse
» No confession
Deal with opposition from your church
Help you heal from a sexless marriage
---
Schedule a coaching session now with Patsy to help you make healthy decisions for yourself and your children.
Pay through PayPal before coaching session:
---
What People Say
You will never know how much respect I have for you, in large part because of your willingness to thumb your nose at conventional wisdom. You might remember the Greek mythological figure Diogenes? He was the guy who went out with a lantern in the dark, searching for the one honest man. I (and many of my male contemporaries) are out there with a lantern searching for a prominent Christian (preferably female) who "gets" sex. You are that person. You put out some unbelievably good stuff. Everything is there. It is simply a question as to whether the reader wants to believe it and apply it. Keep up the great work.— East Coast--Male Coaching Client
Patsy has advanced women into the 21st Century by instilling in them the understanding of what they deserve in life. She presents a revolutionary way of thinking for many women. Patsy has had a profound effect on their outlook by giving them new hope and respect for themselves. The women I work with who listen to Patsy on my radio show continually thank me for having her as a guest because they feel empowered after hearing her.—Bonnie Kaye, M.Ed., Counselor and Author of The Gay Husband Checklist for Women Who Wonder
Patsy, you speak so freely and easily about something so private, so enjoyable, so exhilarating. So you name the word [vaginal orgasm] and you're not even a locker room peer. You help men understand something that is very peculiar to us. Women!!!!!!! Patsy, you are irreplaceable! Where are your male readers and I going to go? Who will tell us the things we really want to know about our women? Playboy? No!!!!! There's no insight, there! Another Christian woman, who???? Where is she? —Eric Widmer, newsletter subscriber and coaching client
Patsy's ability to instill hope is well-known. Her written materials have proven invaluable to me in pre-marital, marital, and sex addiction counseling. Additionally, Patsy's consultation has given me and my clients the tools to prepare for, save, and improve their marriages. She has shared priceless insights with me in planning sex-education retreats for youth. I highly recommend Patsy as an author, speaker, and spiritual consultant.—Oscar Miles, MA, NCC
---
It's past time to transform your life from the inside out….
Sign up now for Outspoken Christian Coaching with Patsy Rae Dawson
May God forgive us all for our ignorance of the past and set us free with his marvelous truths that we might be bright lights for a world so desperately in need of his and our love.
With Christian love for you, I remain
Always in his and your service,
Patsy
Patsy Rae Dawson has coached men and women for over 40 years on how to enjoy vaginal orgasms and dealing with sexless marriages. She authored three in-depth books on marriage including two on the Bible and sex that are used in congregational studies plus numerous other publications.  Patsy has participated in and taught college-level Bible classes for over 30 years. She was a minister's wife for 22 of those years working with congregations in Washington, Texas, and California. She is an internationally recognized expert on the Song of Solomon. CLASServices certified her as an Advanced Personality Trainer in Wired That Way. For more information, see her LinkedIn profile and About page at PatsyRaeDawson.com. Her other websites are EmbarrassTheAlligator.com and SongOfSolomonLoveTriangle.com.

___________________________________________________________