Are You Emotionally Masked to Survive
A Toxic Childhood or Relationship?
~~
Claim Your Genetic Personality and Talents to Move on From Enabling and Narcissism
By Mentally Exercising Naked
Your Personality Is 60% Genetics and 40% Nurturing
But toxic nurturing and relationships can completely overwhelm and hide your genetic personality and talents.
Have toxic people caused you to lose your...
Life purpose and truth
Sexual self-esteem
Laughter and joy
Genetic personality
Inherent talents
Are you a different kind of the walking dead?
Do you feel trapped trying to please unpleasable toxic people?
Is your masculine or feminine spirit crushed?
Have you lost touch with who you really are?
Keep reading...
For real answers...
Urgent problems you don't know you have...
Not knowing that living in emotional survival mode causes you to mask your genetic truth and purpose and lose touch with who you really are
Not knowing that if you grew up in a dysfunctional home chances are you've become either a situational narcissist or enabler to survive
Not knowing how to set free your genetic personality and talents to be your authentic self
Not knowing both narcissism and codependency are the opposite extremes of low self-esteem
Not knowing that many personality weaknesses result from trying to be someone you're not
 Here's what you learn how to do:
Peel off the layers of the mask to release your true personality
Claim and develop your genetic talents
Replace situational narcissism and codependency with self-love to grow in your love for others
Control your toxic self-talk, object-talk, and other-talk
Silence and heal the voices from your past with mental exercises (the Bible calls it "exercising naked")
Best of all
---
Your Next Steps...
Claim Your Genetic Personality with WHO ARE YOU? Christian Coaching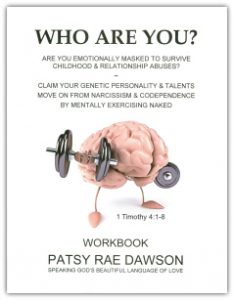 Choose From Two Coaching Plans
PLAN 1:
Unmask Your Genetic Personality
$247 1-month program
Two (2) 60-minute phone calls
Handouts and worksheets
Email support
PLAN 2:
Includes Plan 1 Plus Facing Your Childhood and Setting Boundaries to Set Your Authentic Personality Free
$697 3-month program
Includes Plan 1 plus more
Total of six (6) 60-minute phone calls (2 each month)
Handouts and worksheets for building your Workbook
E-mail support
Email Patsy @ PatsyRaeDawson.com to take a pre-coaching survey to determine your level of masking.
Schedule a coaching session now with Patsy to help you make healthy decisions for yourself and your children.
Pay through PayPal before coaching session: