Patsy Rae Dawson
When our son was born, several women said, "Babies are fun, but then they turn into teenagers." I thought that was a terrible attitude, and 23 years later, I still think it's a poor attitude toward children.
Of course, we all know how raging hormones can make life miserable for teenagers and their parents. During this time, teenagers are trying to figure out where they've been, who they are, and where they're going.
Their hormones make them re-examine everything they've ever believed, as they often become super critical of their parents, which can lead to bitterness and anger. They seem to forget the good times, or perhaps they were too young to remember. Instead, they focus on when they got into trouble or didn't get something they wanted.
I'd like to suggest starting a family tradition to help that wayward teenage thinking—celebrating half birthdays. We all enjoy birthdays with special food and presents, but this would be a different festivity.
Half birthdays would be for giving the gift of good memories for that special person by looking at pictures and telling stories.
When our son was a toddler, someone gave me a large plant, and he walked up and reached for it with his "right" hand. I told him, "No, no." He dutifully put that hand behind his back and reached with his "left" hand. We chuckled at how smart he was and often shared the story with him.
As a teenager, he liked to say, "Mom, do you remember when I tried to touch the plant with first one hand and then the other?" It was an opportunity to hug him and assure him he was special.
I recently scanned a 50-year-old picture of two of my brothers playing cowboys. They w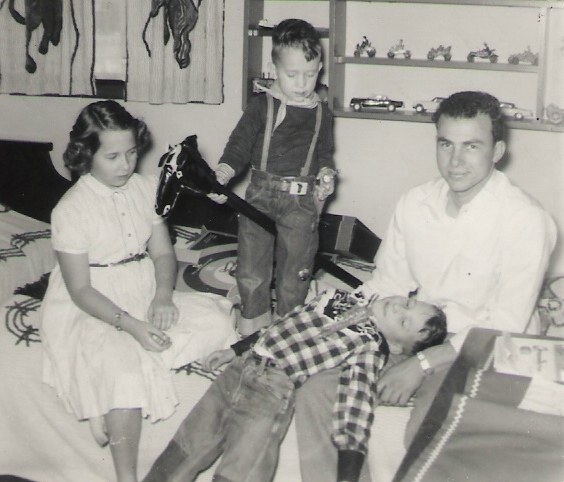 ore cowboy shirts and one brother lay sprawled out pretending to be shot. My younger brother stood astride a stick horse with a cap gun in his hand.
Mom explained, "Grandpapa made that stick horse, and your brother rode it everywhere. One day I needed to go to town. Your brother was outside on his stick horse, and I told him to lay it down by the back step, that we'd be home in a little bit. It'd be okay."
"But when we came home, the stick horse was gone. It made me so angry that I searched the street often to find the neighborhood kid riding it. However, he was smart enough to only ride it in his backyard."
I e-mailed that picture and story to my brothers. I'm years older, but I don't remember Grandpapa making things for us when we were kids. So I asked my younger brother if he remembered Grandpapa making the stick horse.
He said, "Only if I try hard to. But I really like knowing about Mom going up and down the street looking for my stick horse. And you know, 'In Texas, we hang horse thieves!' "
Those memories of the stick horse were lost until I found the picture and shared it.
Think how it would be if we celebrate half birthdays by remembering the special things our children did and said, and the fun trips we took. Then when their hormones start raging and trying to make them focus on the bad, our teenagers could find balance by remembering the good times we've reinforced year after year.
Not only that, but teenagers love hearing about when their parents and grandparents were young. So maybe we ought to mark our calendars for the half birthdays of everyone in our families.
God enjoys a scrapbook about those of us who love and serve him:
Malachi 3:16: "Then those who feared the Lord spoke to one another, and the Lord gave attention and heard it, and a book of remembrance was written before Him for those who fear the Lord and who esteem His name."
It's thrilling to think of God looking at a scrapbook with pictures and stories about his children in it. We can learn from this glimpse of heaven and follow God's example by deliberately helping our children remember the good times.
Visualize the impact that'd make on the 18-year-old getting his diploma. He'd possess the self-confidence of knowing he was wanted, loved, cherished, smart, and cute. He'd know where he'd been, who he is, and where he's going. He wouldn't doubt that his parents are on his side.
Whether our children are 2 or 52, it's not too late to celebrate half birthdays with simple scrapbooks for them to keep in their rooms or e-mail them pictures and stories.
I challenge us all to build on those happy memories by sharing pictures and stories on half birthdays to allow each family member's unique identity to shine.
I'm marking my calendar.
How about you?
(Published in the Amarillo Globe News)
Permission to Reproduce Taming Raging Teenage Hormones

Taming Raging Teenage Hormones by Patsy Rae Dawson. Copyright © 2011 Patsy Rae Dawson LLC. All rights reserved. This essay is available at PatsyRaeDawson.com. It may be copied for noncommercial use only, provided you do the following: 1. Retain all copyright, trademark and propriety notices; 2. Make no modifications to the materials; 3. Do not use the materials in a manner that suggests an association with Patsy Rae Dawson LLC; and; 4. Do not download quantities of materials to a database, server, or personal computer for reuse for commercial purposes. You may not use this material in any other way without prior written permission. For additional permissions, contact Patsy Rae Dawson LLC at Patsy@PatsyRaeDawson.com.