The Song of Solomon is the Bible's 3000-year-old soulmating and lovemaking guide for a lifetime of passionate sex. The story goes inside the mind of a young virgin as she struggles with whom to marry—the rich, powerful playboy king or her poor shepherd boyfriend.

Is the brain the most powerful sexual organ? Most people say yes, but few really get just how powerful the brain is for creating passionate lovemaking for a lifetime. Take the Hand Love Test to experience for yourself just how amazing the brain really is for enjoying a passionate sex


» What are the 3 types of sexual deprivers?




» Can sexless marriages be turned around?




»

2 Timothy 3:1-5 lists 19 universal characteristics of sexless marriages. We covered the first 10.




»

What are the 3 kinds of masturbation?
Are You Struggling In A Sexless Marriage? STOP!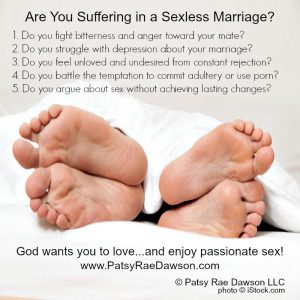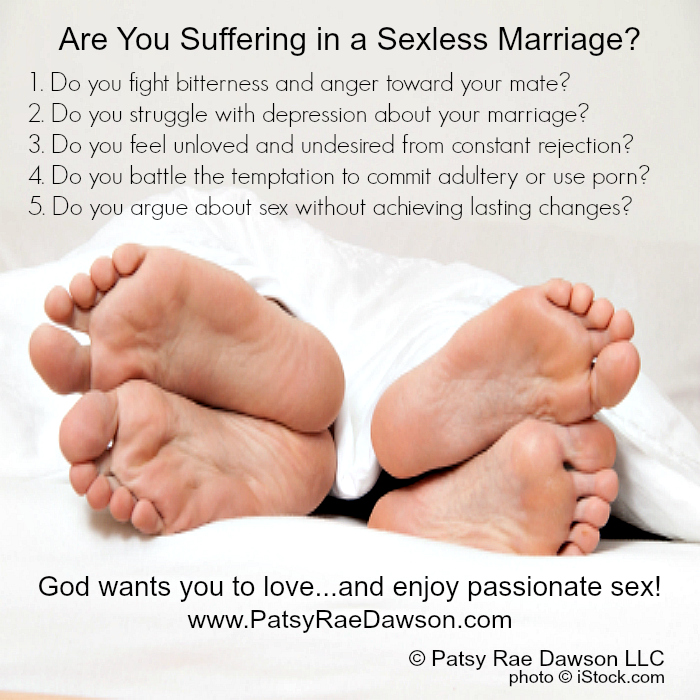 God wants you to love and enjoy passionate sex. He doesn't trap anyone in a loveless marriage. He provides many ways of escape.
Most advice for sexless marriages addresses only sexual ignorance, health or age-related problems, failure to make time for each other, or suggests better techniques.
Is that working for you?
According to the sexless marriages discussions forums, those simplistic solutions don't work for most people.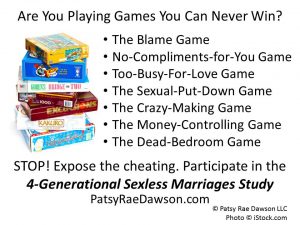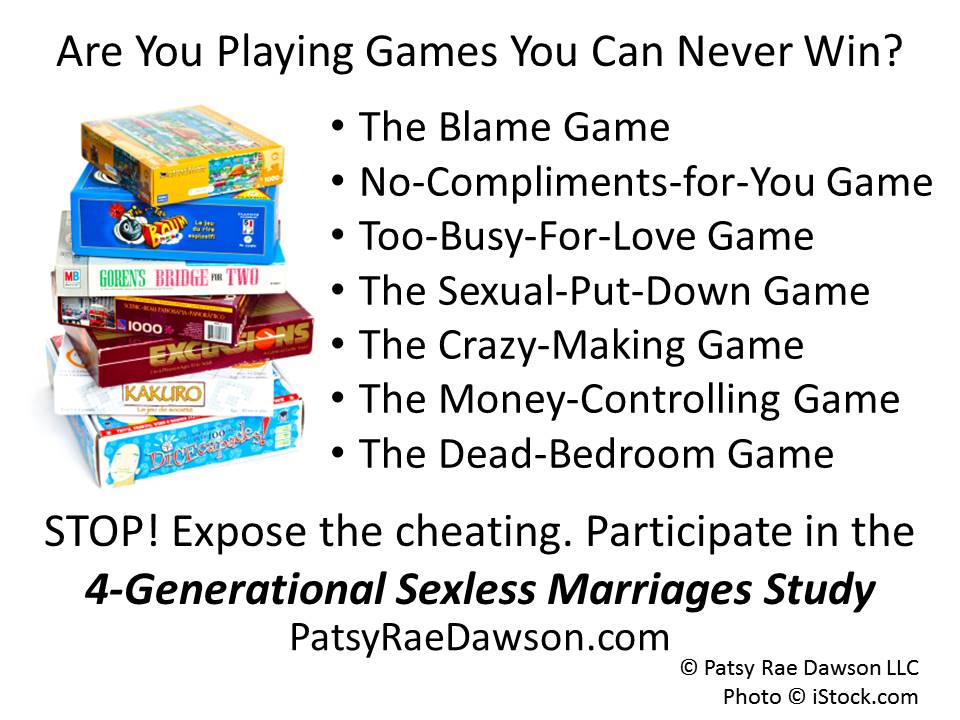 After over 40 years mentoring men and women in sexless marriages, I move beyond these easy solutions.  The Bible teaches three different types of sexless marriages and each requires a different means of escape. My teaching and coaching ranges from simple ignorance about sex to the hard-core career sexual deprivers who enjoy causing emotional and sexual pain.
---
Work With Me as I Help
» OPEN HEARTS to what true love looks, sounds, tastes, feels, smells, and acts like
» OPEN EYES to how 24/7 daytime clustered love sins translate into nighttime dead bedrooms
» OPEN MINDS to ways of overcoming sexless marriages for SPEAKING GOD'S BEAUTIFUL LANGUAGE OF LOVE™
Get started right now
Several options of 1-on-1 Marriage, Sex, and Divorce Coaching will have the right one for your needs. Learn more...
Or take this important survey
Learn what you're up against. Take this groundbreaking survey to open your eyes to the 24/7 clustered love sins common to sexless and sex-inappropriate marriages. Then you can begin to solve core problems. A dead bedroom is only the most obvious sign of character defects. Learn how to fight about the right issues.

| | | |
| --- | --- | --- |
| | | |
| Click here to take this eye-opening Sexless Marriages Survey | Free pdf eReport when you complete the Sexless Marriages Survey | Free pdf eReport when you complete the Sexless Marriages Survey |

Permission to Reproduce Can This Marriage Be Saved
Can This Marriage Be Saved by Patsy Rae Dawson. Copyright © 2010-2015 Patsy Rae Dawson LLC. All rights reserved.
Can This Marriage Be Saved by Patsy Rae Dawson is available at PatsyRaeDawson.com. It may be copied for noncommercial use only, provided you do the following: 1. Retain all copyright, trademark and propriety notices; 2. Make no modifications to the materials; 3. Do not use the materials in a manner that suggests an association with Patsy Rae Dawson LLC; and; 4. Do not download quantities of materials to a database, server, or personal computer for reuse for commercial purposes. You may not use this material in any other way without prior written permission. For additional permissions, contact Patsy Rae Dawson LLC at Patsy@PatsyRaeDawson.com.