God wants you to love and enjoy passionate sex

 
(Proverbs 30:18-19; Song of Solomon 2:6; 5:1; 8:3).
God provides multiple ways of escape from miserable marriages as these true stories show: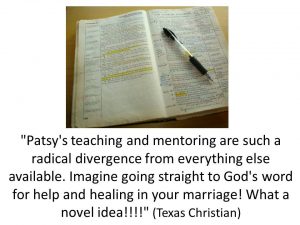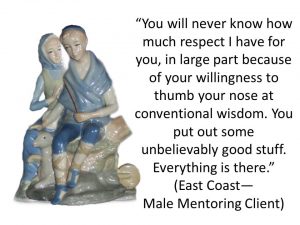 What People Say
Patsy helped me solve a family crisis: I worked with Patsy in the "Who Are You?" plan 1 program. I had read the book Wired that Way by Marita and Florence Littauer, but I had trouble feeling sure of what my main personality was. I also felt confused about how it could help in real life situations.
After a family crisis that I knew was going to get worse, I contacted Patsy. Now I feel very sure of my personality and am amazed at how much it can help in every area of life. I gained confidence in solving work and family problems. Surprisingly, discovering my genetics is helping me have more fun in life! I didn't realize how much I was suppressing my true personality. 
Patsy answered all my questions and wrote a lengthy personal analysis of my personality and life archetypes. It gives me a lot to work on and apply to my life. And I can reference it when I need to.
She did a great job of identifying my strengths and how I could use them and gave me insights into my weaknesses and how to work on those. Its amazing how much easier life can be when we can be our true genetic personalities, as well as understanding other people's personalities! Patsy does an amazing job at analyzing, identifying, and coming up with a plan for you to work on. I highly recommend Patsy if you are ready to discover "Who You Are"! ~~Female 30ish client

My wife asked me to move out: I contacted Patsy after my wife told me to leave. I did her Sexless Marriages & Without Natural Affection Self-Assessment Reflective Survey. Together we identified four problem areas I need to work on. We customized the 3-month Who Are You? program by adding weekly phone calls to give time to deal with sexual issues. Plus I wanted to accelerate my efforts to save my marriage.
I had done a personality assessment through work. But it didn't take into account my upbringing by drug and alcohol addicted parents. The work profile actually scored me for my masking--not my true genetic personality. Now that I know who I really am, I'm claiming pieces of myself that I had totally buried.
I'm enjoying my children and my wife more than ever. Best of all, I quit walking on eggshells. I used to apologize for everything, even when I didn't know what I was apologizing for just to keep the peace. I don't do that anymore. Now I'm actually solving problems instead of avoiding them.
Patsy told me that I needed to change for me regardless of what my wife did. She warned that my wife might not like the new me. But we fight a whole lot less and our home is happier and more calm. I'm not there yet, but I like how I'm changing "from the inside out" as Patsy says.
I recently recommended this program to a friend who is struggling with severe marriage problems. I told him that learning who I am helped make other things fall into place. And it's given me personal confidence I never had before. Thank you, Patsy, for sharing your wisdom.~~Male 30ish client