by Patsy Rae Dawson ~
Do you wonder if a visit to the doctor for VIAGRA® would restore romance to your marriage? It depends on why your marriage doesn't have enough sex to keep both you and your husband satisfied. If it's a medical problem, then perhaps the little blue pill can revive the passion of yesteryear. But if the problem originates between your man's ears instead of between his legs, then VIAGRA® probably can't offer much help.
The sexual powers of VIAGRA® was discovered by accident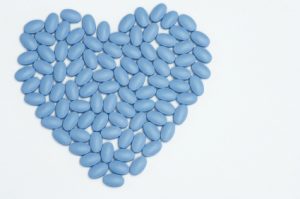 Medical researchers discovered VIAGRA® when they tested a new drug to lower blood pressure. Dr. Brian Klee, senior medical director at Pfizer, told French news agency, AFP what happened. "One thing that was found during those trials is that people didn't want to give the medication back because of the side effect of having erections that were harder, firmer and lasted longer."
One husband said, "The ads warning men to seek medical attention if an erection lasted more than four hours is really a huge selling point. Having such a problem at our age would be a welcomed change!"
But VIAGRA® can't replace soulmating for great sex
While men flocked to their urologists' offices for the magic potion, two truths emerged about VIAGRA®. Dr Abraham Morgentaler, director of Men's Health Boston, and associate clinical professor of urology at Harvard Medical School, explained as he hailed VIAGRA® as a "benefit to medicine." However, the drug had not delighted all those who took it. "There are two truths to Viagra: for those who refill (get a new prescription), it's wonderful and they're happy. But a lot of people look to Viagra for personal happiness, thinking a hard penis can resolve relationship issues, and they end up disappointed," said the doctor, author of the book The Viagra Myth.
Sadly for many couples, VIAGRA®, a miracle drug for erectile dysfunction, cannot throw fairy dust over an unloving male body to miraculous turn it into a pulsating love machine. The drug lords have recognized the limitations of their recreational drug of choice from the beginning. Notice Pfizer's technical warning in their medical flier that VIAGRA® is not a modern-day aphrodisiac.
Mechanism of Action
The physiologic mechanism of erection of the penis involves release of nitric oxide (NO) in the corpus cavernosum (mass of spongy tissue surrounding the male urethra within the penis that becomes engorged with blood) during sexual stimulation. NO (nitric oxide) then activates the enzyme guanylate cyclase, which results in increased levels of cyclic guanosine monophosphate (cGMP), producing smooth muscle relaxation in the corpus cavernosum and allowing inflow of blood.
Notice when VIAGRA® has no effect on a man's sexual performance:
Sildenafil (the primary ingredient of VIAGRA®) at recommended doses has no effect in the absence of sexual stimulation.
In other words, if you're not emotionally horny for your mate, VIAGRA® "has no effect" and is a waste of your money. The bubble packaging containing the rounded, diamond-shaped blue tablets warns patients that VIAGRA® cannot create love in the bedroom. "VIAGRA® works in 30 to 60 minutes. But only when you are sexually stimulated (like from kissing or touching)." For the best experience with VIAGRA® (sildenafil citrate), keep these tips in mind.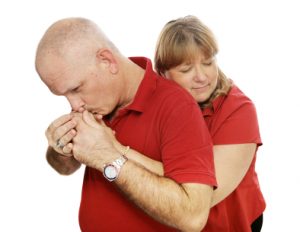 The reason VIAGRA® worked for the men testing it as a blood pressure medication is because they were emotionally involved with their wives — the couples enjoyed true soulmating. Because of the love between their ears for their wives, their tired bodies responded to the stimulation of the drug. And these men did not want to give up the medication because of the renewed vigor with their wives.
Even the manufacturers of VIAGRA® recognize sexual function is first an expression of love in the man's brain, not the flow of blood to his organ of pleasure. Medical science does not have a magic pill to force a husband to love his wife. For ecstatic lovemaking, God has patiently taught for over 3000 years in the Song of Solomon a couple must first take the time to soulmate (to spend time enjoying each other's company) and then engage in frequent sexual bonding.
VIAGRA® helps a mental adulterer cheat with his eye and hand
The insert for the little blue pill doesn't say this outright. But VIAGRA® also enhances a man's ability to cheat on his wife whether it is with mental adultery or outright physical adultery. One wife confided, "I saw my husband take VIAGRA® before going into his office to engage in phone sex. When I objected, he said, 'What's the big deal? No one is getting hurt.'"
The wife was getting hurt because her husband was focusing his mental attention on the other woman on the other end of the phone instead of her. The husband falsely assumed that because the other woman wasn't in the room, he wasn't really cheating on his wife. Any woman married to a man who cheats by masturbating to porn or telephone sex, knows firsthand the damage it does to the marriage. Not only is soul mating usually absent in these marriages, but often the wife is starved for sexual love with her husband.
As the packaging says, VIAGRA® works "only when you are sexually stimulated (like from kissing or touching)." For mental adulterers, the little blue pill enhances what they've trained their brains to love — masturbating to phone or Internet porn, breast ogling or groping with so-called brotherly hugs.
VIAGRA® can't transform a loveless marriage
God's design for chandelier-hanging sex is for couples to first take care of soulmating, or mental coupling, before using their favorite personal lubricant and then jumping between the sheets. For more information read my articles:
Soul Mating for a Lifetime of Ravishing Love Making: God's 4 Steps
God's Intellectual Property for the Bedroom
Incredible Lovemaking after Learning to Fight Fair
It's not a replacement for love, but it can help you express love through sexual stimulation.
Great lovemaking is an expression of both the husband's and the wife's deep love for each other. Thus, the better Christians we become, the better lovers we also should become. Why? Because being a Christian should be synonymous with being a giver of love in all realms, especially to our family. This means we don't let the sun go down on our anger and we work hard to keep bitterness and resentment from creeping into our bedrooms. Consequently, keeping loving thoughts in our minds frees our bodies to be their most passionate selves — with or without VIAGRA®. Being Christians means growing up emotionally to better convey love to others, especially to our mates and children.
Love in our hearts liberates our bodies for Speaking God's Beautiful Language of Love™ that transcends spoken words. VIAGRA® simply serves as a tool to sometimes help when health or age gets in the way of the physical connection between two emotional lovers. This article is not about offering medical advice. Only your doctor can advise you about whether VIAGRA® can help with your physical symptoms. This essay simply stresses that great lovemaking begins in the brain and you can't bypass that important ingredient of a wonderful love life, even with VIAGRA®.
Patsy Rae Dawson is a Christian marriage, sex, and divorce coach. She's the author of The Song of Solomon Love Triangle: God's Soulmating and Lovemaking Guide for a Lifetime of Passionate Sex. She administers the ongoing Sexless Marriages & Without Natural Affection Reflective Survey: 6 Checklists of Intensely Personal Simple Questions Help You Analyze the True State of Your Relationship so You Can Make Healthy, Loving Decisions.
Published first on YourTango.com.
---
Permission to Can VIAGRA® Turn a Sexless Marriage into a Sizzling Bed of Passion?
Can VIAGRA® Turn a Sexless Marriage into a Sizzling Bed of Passion? by Patsy Rae Dawson. Copyright © 2014 Patsy Rae Dawson LLC. All rights reserved.
Can VIAGRA® Turn a Sexless Marriage into a Sizzling Bed of Passion? by Patsy Rae Dawson is available at PatsyRaeDawson.com. It may be copied for noncommercial use only, provided you do the following: 1. Retain the Patsy Rae Dawson bio paragraph at the end; 2. Give copyright notice as required by Google by including after the bio "Published first on YourTango.com;" 3. Make no modifications to the materials; 4. Do not use the materials in a manner that suggests an association with Patsy Rae Dawson LLC; and; 5. Do not download quantities of materials to a database, server, or personal computer for reuse for commercial purposes. You may not use this material in any other way without prior written permission. For additional permissions, contact Patsy Rae Dawson LLC at Patsy@PatsyRaeDawson.com.
Save
Save